Today's business-environment is hyper-competitive and every business is first engaged in developing a mobile app to boost customer engagement. Right from the development to cranking up apps visibility, there are major steps to be taken into account. Let's indulge you with some solid tactics to increase the customer engagement.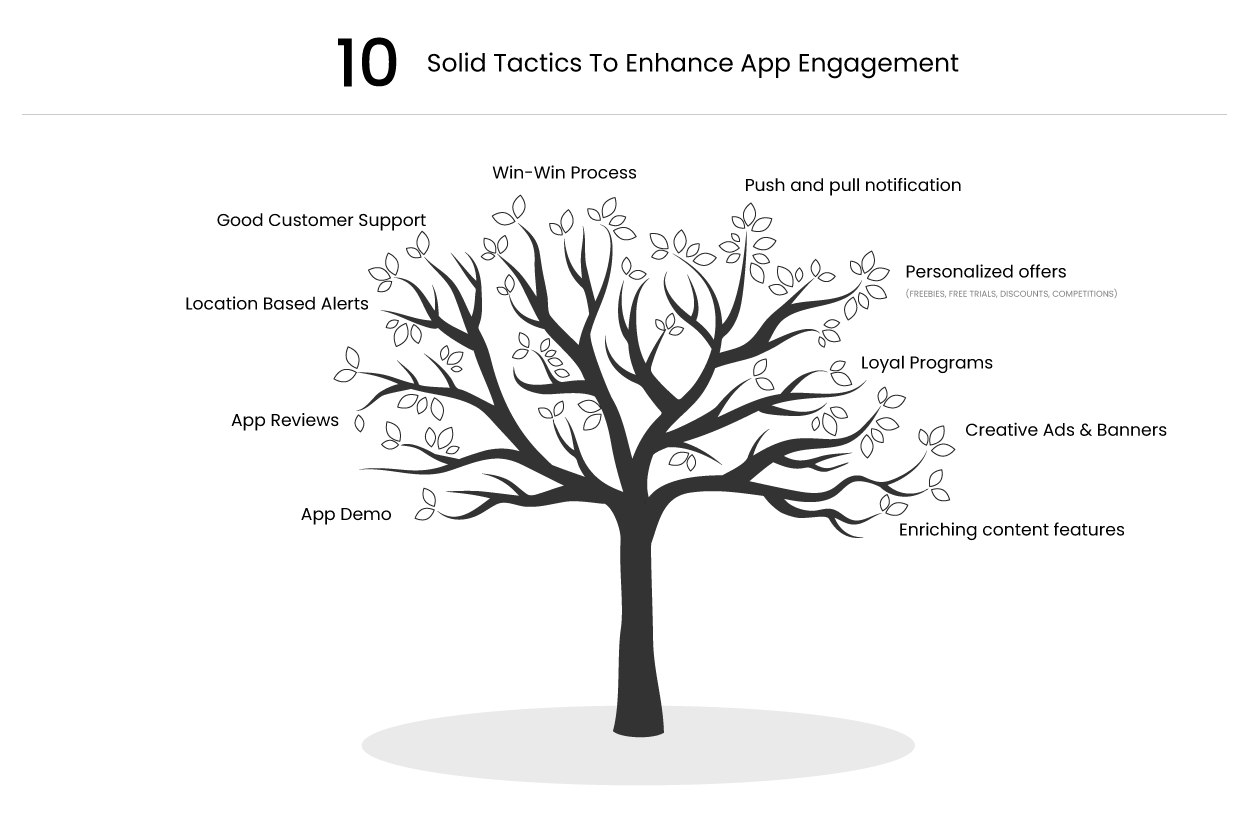 1. Leveraging the Potential of Push and Pull Notification
Majority of apps currently follow the strategy of push notification. In most of the cases, it is just a one-way communication rather than duplex form. But your push notification must be capable of pulling your customers, which is the basic sign to make users engage within your app.
2. Personalized Offers
Offers are the most wanted among the customers, which easily grabs their attention towards your app. The offers must be trustworthy to retain the customers, providing dishonest and false offers just to create a one-time visibility and do not retain them. So indulge your offers with Freebies, Free Trials, Competitions, and Discounts.
3. Attractive and Creative Ad Banners
Eye-catching and creative ad banners stay in the heart of customers forever populating your direct brand name. Banners provide an exotic look and feel for the customers illustrating the features in a single view.
4. Enrichment of Content Features
Creative and unique real-time content produce the exact functionalities of the app and also enhances the user engagement which leads to multiple shares, more downloads, and delivering multiplier effects. Motivate your app through crisp and vibrant content providing all the solid features.
5. Product Demo
Demonstrate the power and functionality of your product, so that there could be a high recommendation for your product if it is really trustworthy and consists of high-end unique features. A word of mouth about the unique product proves its providence.
6. Interesting & Positive Reviews
Basically, app review is the recommendation of your app to the new users. If your app consolidated with positive and interesting reviews, then there is a high chance for the users to recur frequently and they would not prefer alternative choices such as uninstall.
7. Leveraging Location-Based Content
Location-based offers and notifications are the best tactics to target your right audience. Using beacon and GEO-fencing technology to send location-specific, contextual, and timely data-driven content to customers are more powerful.
So, it is valuable to use beacons to push location-based offers and promotions, promote loyalty programs, and facilitate mobility-based proximity payments.
8. Good Customer Support
Loyal support team brings the loyal customers as recurrence. As the proverb states, "The first impression is the best impression", impress and assist your customer for their revolving queries and make them stick towards your business to achieve your long-term goal.
9. Mobility-Based Loyal Program
Loyalty Programs build the digital gap between the online brand and the physical presence. Promote loyalty programs and contribute rewards since people love incentives and rewards, which indulges them with the frequent recurrence enhancing the app engagement.
10. Win-Win Process
Balancing both the customer as well as business strategies should always be a continuous process for a standard win-win creating a long-term brand. Fix a long-term goal rather than the short-term for the continued growth and achieve a win-win process.
I hope this article would have produced in-depth tactics to enhance the app visibility and increase the customer engagement.